Do not miss out tonight.  Tuesday Nov 12th, 2013. Book Case Literary Salon #3, at The Underground, 955 West End Avenue (corner with West 107th St). 212-531-4759, Subway: #1 to 103rd or 110th St. 7 pm; Ticket: Free. https://bookcasetv.com/bookcase-salon/  Book Case TV host, Frederic Colier, takes to the stage to discuss Part III of "Swimming in the Fishbowl," an evening with authors Peter Murphy, Julie Mannix Von Zerneck and Kathy Hatfield, and Paul Lynch, who will participate in a conversation and share a thought or two about their unique books, outlook on life and creative process.
Please note the Salon will be taped for future broadcast on NYC LIFE.  By participating you accept to be on camera and possibly to appear on TV.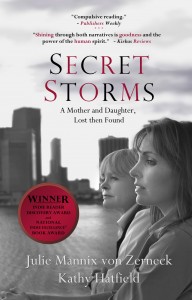 In "Secret Storms," Julie Mannix von Zerneck and Kathy Hatfield are mother and daughter, lost and found. Their memoir narrates their extraordinary true story of how they were separated at Kathy's birth and reunited only forty-three years later. Julie, a pregnant upper-class 19 year-old from Philadelphia is confined against her will to a state mental hospital after she refused to abort.  On April 19th 1964, she gives birth to a little girl and is forced to give her up for adoption. Julie Mannix von Zerneck worked as an actress on Broadway and TV for many years and now collects rare antic books.  Kathy Hatfield teaches high school World Literature in Florida.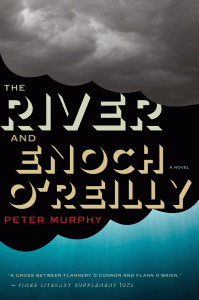 Set in the small town of Murn, Ireland, up-and-coming literary talent, Peter Murphy's second novel, "The River and Enoch O'Reilly tells the tale of Enoch O'Reilly, Elvis Impersonator, self-made preacher, and the nine mysterious deaths caused by the flooding of the town's river Rua. Enoch, an ex-seminarian doesn't believe in God but instead prays to Elvis.  Peter Murphy is a rock critic and the founder of the spoken-word music ensemble the Revelator Orchestra, based on his first novel, "John the Revelator." His articles have appeared in Rolling Stone, The Irish Times amongst others.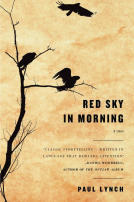 In "Red Sky in the Morning," from, first-time author Paul Lynch, is a novel which opens in1832. Coll Coyle, a new father and small farmer, has incurred the wrath of the owner of the land that he works. Events escalate. He goes on the run, pursued by the landowner's manager, John Faller. Lynch describes Faller as the "incarnation of rational evil." There can be no emotional engagement with him. He is a clever and deeply logical man. As the book unfolds, we see how he will utilize any circumstance to advance his cause.  Paul Lynch is from the small town of Carndonough on the Inishowen Peninsula in County Donegal, Ireland. A film critic by trade, Paul saw his first novel auctioned in the UK.
Book Case TV is a TV program airing on NYC Life, Mondays at 9:30 pm.  The program features authors from all walks of life, fiction and non-fiction, as well as personalities and stories from the publishing industry. We look forward to seeing you.
The Book Case Team