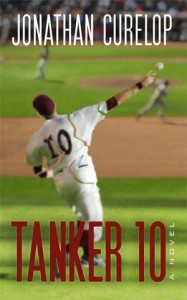 Tanker 10 by Jonathan Curelop (released Oct 24th, 2013)
E-book ISBN 978-1-62848-030-6 (Kindle).  ISBN 978-1-62848-031-3 (EPUB). ISBN 978-1-628484-032-0 for print.
10-year old Jimmy LaPlante, overweight and bashful, suffers a traumatic accident at the hands of his bullying older brother, and uses his passion for baseball in an attempt to overcome its physical and psychological traumas.
Synopsis: Meet Jimmy LaPlante – sensitive, bookish, baseball obsessed – the neighborhood fat kid and easy prey for his bullying older brother. The story opens in Brockton, MA. It's 1976. When Jimmy tries to stand up to Cliff, the verbal abuse turns physical and an accident occurs, sending Jimmy to the hospital with an injury that changes the trajectory of his life. TANKER 10 follows Jimmy during his pre-teen and teenage years as he struggles to understand the physical and psychological effects of his injury. Throughout this period, baseball is his outlet. By the time he begins high school, Jimmy is an up-and-coming right fielder on the freshman baseball team. Despite having no physical signs of his condition, he is so ill at ease with himself that he can't help but feel like a freak. Jimmy spends his life grappling with what it means to be normal as he tries to find his place in his family, among his friends, and with his brother Cliff. TANKER 10 is a funny and heart-breaking story about self-acceptance in the wake of trauma. Readers will root for Jimmy as he struggles to understand that the key to becoming who you are is learning to get out of your own way.