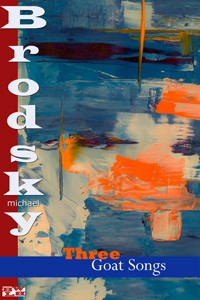 "Three Goat Songs" by Michael Brodsky, is a series of variations on a theme. It is divided into three novellas, each about a man who sits on a rocky coast by the seashore, contemplating. Herbs of goats come there to graze. The man is a husband and father of two children.
"Three Goat Songs" is an exploration into the existential boundaries, in the "sea-bounded goat world." It is a philosophical look at the essential sameness and, at the same time, the diversity of all stories. It has in common with the other books of Michael Brodsky the theme of the protagonist's struggle to survive, and more than that, to comprehend.
Together, this body of work has led critics to compare the writing of Michael Brodsky to that of the masters like Dostoevsky, Becket, Joyce.