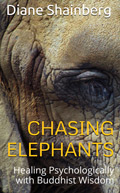 "Chasing Elephants," by Diane Shainberg
(Book Case Engine, p 180, ISBN: 978-1-62-848-)
As both a practicing psychotherapist and, Buddhist priest-teacher, Dr. Diane Shainberg uniquely integrates Buddhist spiritual wisdom with the practice of western psychological healing. She demonstrates how rather than searching for health through external solutions, one can look to his or her own internal potentials for healing and transformation. The author gives us specific practices for psychological healing to happen and be sustained.
"Chasing Elephants clearly describes how Dzogchen Buddhist practice can help in working with our psychological issues and in healing them through natural processes . . . how lo create an inner transformation with open-hearted awareness. The author's personal, spiritual and clinical examples, make this an important contribution to therapy and spiritual work. I highly recommend this to-all those on the path of liberation. " — Lama Surya-Das. Author of Awakening the Buddha Within, Awakening to the Sacred.
"A wonderful book on how Buddhist teachings can inform the process of healing psychologically. Like a Zen Koan, Shainberg's writings sparkle with wit and insight, pointing to the spaciousness found in the intimacy with this moment. I hope professionals and lay people alike will mine this rich resource." — Pat Enkyo O'Hara, Sensei, Village Zendo.
"This book will change not just psychotherapy as we know it now, but also the hopes and expectations of anyone who needs to heal. For it shows that love, spiritual practice, and self-discovery, are essentially the same path, coming together in the Now of Not-knowing." — Roshi Bernie Glassman. Author of Instructions to the Cook, Bearing Witness.
"Chasing Elephants reveals the source of love from which healing arises. This book is a perfect companion for our journey as individual, client, or therapist." — Judith Sarah Schmidt, Ph.D., Co-founder, Center for Intentional Living.
"A wise and moving book. Diane Shainberg distills a lifetime of experience to show us how the paths of psychotherapy, spiritual practice and daily life can be integrated into the one clear path of awakening. Therapist or client, spiritual student or curious beginner — read this book and learn how to heal!" — Kenneth Porter, M.D. Co-Director, Center for Spirituality and Psychotherapy, National Institute for the Psychotherapies