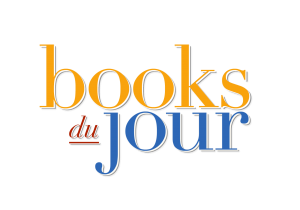 The team of BCTV is pleased to announce that our new literary TV series, Books du Jour, premiere in March 2014 on LIFE 25 (TWC).  While Frank Debonair is gathering new cases to investigate for "Book Case TV," we thought in the meantime that we would come up with a new exciting format to promote the publishing industry and its massive rank of authors, and expose their books to a starving audience, nationwide.  We created "Books du Jour" in a co-production with NYC Media and landed a twelve-episode deal for a first season.  Second Season will start on March 6th, 2015.
You can pretty much watch our program anywhere in the world.  We are on TV.  We stream online, and if that is not enough, you can also listen to our program Podcasts (free).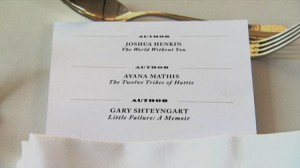 "Books du Jour" (BDJ) has a simple premise: the host, Frederic Colier, invites three authors to lunch to talk about their books and life at large in one of Manhattan's finest restaurants. BDJ runs each Monday at 9:30 pm
---
SEASON 1
EPISODE #101 – "Across The Universe and Back" 03-03-14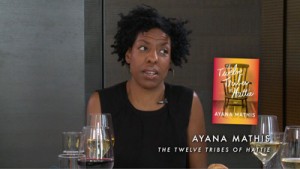 The first episode, "Across the Universe and Back," shot at the Riverpark restaurant, overlooking the East river, had on its menu, Joshua Henkin "The World Without You," Ayana Mathis "The Twelve Tribes of Hattie," and Gary Shteyngart "Little Failure: a Memoir."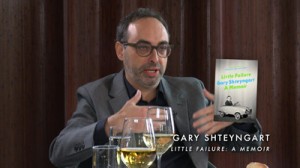 We understand that 30 minutes is not much time to have lunch and savor tasteful food, but the guests had fun, and no one complained about bad indigestion.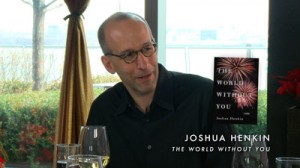 We need your support and feedback as we migrate quickly towards syndication (more on that front later).
The Books du Jour and the BCTV Teams
Episode was shot at Riverpark Restaurant
---
EPISODE #102 – "Give Peace Freedom" 03-10-14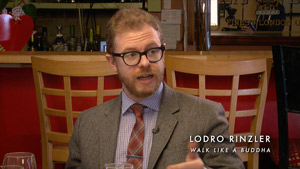 This week, host, Frederic Colier, invites Lodro Rinzler, "Walk Like a Buddha."  Director of the Center for Compassion, Lodro tackles the everyday issues normally not discussed in spiritual circles.  What about drinking, smoking and sexual desires?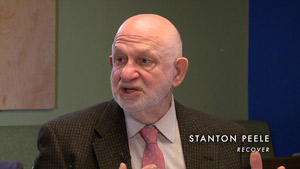 Stanton Peele, "Recover" goes against the 12-step program and discusses his PERFECT program, which empowers substance addicted individuals.  Stanton teaches personal responsibility and self-acceptance.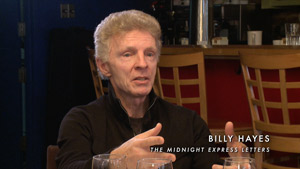 Finally Billy Hayes, the very maverick who wrote the story of his ordeal in Turkish prison, "Midnight Express, comes back with "The Midnight Express Letters," a book about the letters he wrote while in jail and which show his individual grow and spiritual journey.
Episode was shot at PicNic Market
---
EPISODE #103  "Of Power and Executives" 03-17-14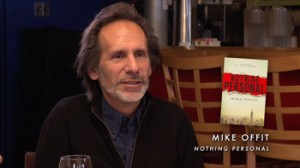 This week host, Frederic Colier, looks into the nature of executive power and the power of executives.  His first guest is Mike Offit, "Nothing Personal," a first time thriller writer who wrote a coming of age story about a wiz kid on Wall street who learns how far he can get away with the power he has been entrusted with.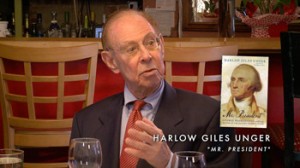 Historian Harlow Giles Unger looks at George Washington's presidency and the US constitution that left him pretty much a lame duck to rule in "Mr. President."  To pursue his own agenda Washington made ample use of his executive power and set up a precedent for all the presidents thereafter.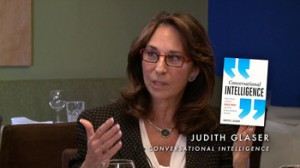 Finally, Judith Glaser "Conversational Intelligence" deals with a new aspect of the digital society where the hierarchical power structure is quickly eroding, and communication no longer works from the top down.
Episode was shot at PicNic Market
---
EPISODE #104  "Inside the Scents" 03-24-14

This week on "Books du Jour," our guests gather around a table at City Winery to discuss the scent of their new book and share some musing.  Mark Slouka, Lara Vapnyar, Edmund White.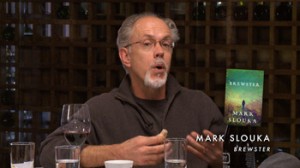 One of the most interesting aspects about scents is their intimate ties to locations and more particularly to soils.  Our three guests carry a distinctive sense of place.
Mark Slouka, "Brewster," writes about Brewster, NY, a poignant coming of age novel, based in the late 60s', about a young man seeking his place in this small country town.  There is little wandering outside the borders.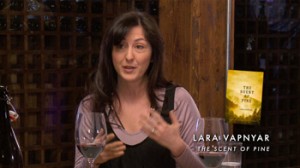 Lara Vapnyar complicates the issue of identity by straddling two continents and two time frames.  Her "Scent of Pine," moves back and forth between the outskirts of Moscow and the countryside of Maine.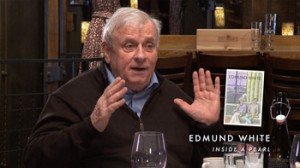 Edmund White, on the other hand, with "Inside a Pearl," which refers to Paris, the French capital, continues his peripatetic wandering through the French cultural corridors.  His sense of place is about relocation and shifting identity.
Episode was shot at City Winery
---
EPISODE #105 "Swimming Gene Pools" 03-31-14
This week on "Books du Jour," our guests bring some controversy to the table.  Conversations move around such topics as the 10,000-hours theory that could turn an average athlete into a world athlete, unless you have the perfect genetic makeup and can bypass the process.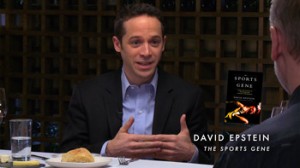 David Epstein, in "The Sports Gene," addresses this sort of issues in a highly entertaining book.  How much of our genes define our chances to succeed  in sports?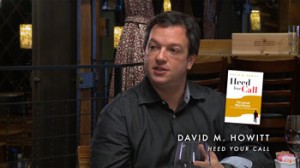 David M. Howitt, in "Heed you Call," circles back to the hero's journey as defined by Joseph Campbell, to show that putting our mind into a specific coveted endeavor may well yield the results sought after.  Are a strong will and awareness enough to achieve our goals?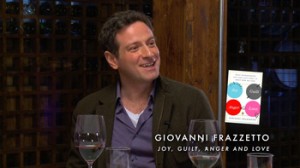 Giovanni Frazzetto, in "Joy, Guilt, Anger, and Love," looks at the impact of neuroscience on emotions.  Can science eally teach us to better understand ourselves, predict our behaviors and reactions by looking inside our brain?  The best way to find out the answers to all these tricky questions is to tune in tonight.
Episode was shot at City Winery
---
EPISODE #106  "Fine Legal Boundaries" 04-07-14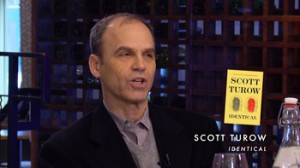 Although it is not the focus of tonight's episode, all the authors sharing the same table, Scott Turow, Jean Hanff Korelitz, and Stephan Talty, have had the same share of success with films.
Many of Scott Turow's books, such as "Presumed Innocent," have been turned into films, Jean's "Admission," was a hit last year with Tina Fey in the lead role, as for Stephan's "Captain Phillips," it is still in the theater.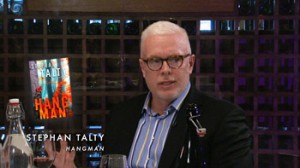 The books discussed maybe works of fiction but their subjects are solidly anchored in reality.  On the eve of the Supreme Court decision to lift off ceiling on corporate contributions, we will talk with Scott Turow and his new book, "Identical," which deals with the abuse of money used during a mayoral election.
 Stephan Talty brings a touch of frigid crispiness from upstate New York with his serial killer, "Hangman," who continues to spread havoc among the population of Buffalo.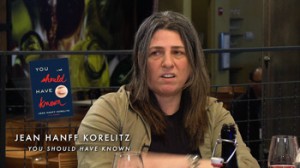 While Jean Hanff Korelitz, in "You Should Have Known" deals with the ironic twist a therapist experiences, when she becomes the victim of circumstances, which force her to swallow the very medicine she prescribed in her bestseller . . .
Episode was shot at City Winery
---
EPISODE #107  "Foreign Tongue Twisters" 04-14-14 at 9:30 pm on LIFE 25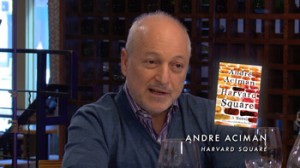 This week's episode of "Books Du Jour" looks at "transplant" literature.  Andre Aciman, who over the years has become a specialist of squares: Abingdon Square, Strauss Park (which looks like a square) and Harvard Square, his latest novel, reflects on the voice of integration.  Egyptian born, Andre shares through his novel the daily struggle he encounters to define his identity, the acceptance of other precepts and values, be they moral or ethical.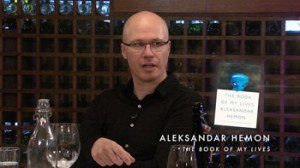 Born in Sarajevo (Bosnia), Aleksandar Hemon offers a different voice, a voice of authenticity and appropriation even in the face of the corruption of language and past.  His book "The Book of My Lives" is a collection of essays tracing the last twenty years of his life, from his departure from Bosnia and the irrupting war to the present day acceptance of life's many pluralities.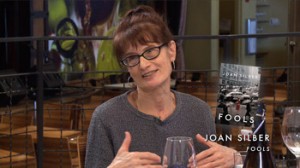 Though born and raised in the states, Joan Silber's "Fools" is a collection of short stories, which deals with the lure of foreign countries.  France in this instance, where we meet a cast of drifting American characters, who really are in search of themselves as they try to fill the existential void at the core of their journey.  They are idealists who have to grapple with the failures of their beliefs, the fragility of their political choices and societies' demands, before they can fully embrace themselves.
Episode was shot at City Winery
---
EPISODE #108     "Death Be Not Proud" 04-21-14 at 9:30 only on  LIFE 25.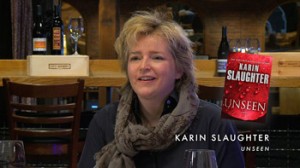 The guests of this week's episode of Books du Jour cannot emphasize enough the importance of turf. Turf is the stuff of the locals and inherent affinity with the material. In her most recent novel, "Unseen," crime writer, Karin Slaughter, the Georgia native, does not drift too far from her roots. She sends Will Trent on a path to wrestle with his own mind along with the natives' and to make sense of unpleasant discoveries in the process. As always, Karin's writing is precise and festers an intense psychological tension that could not happen anywhere else.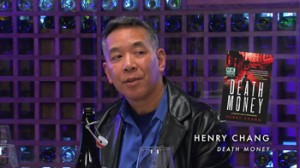 Henry Chang's new Jack Yu series, "Death Money," carries the heavy whiff of a singular place seldom visited in crime fiction.  In this case, New York China Town and particularly its seedy world.  "Death Money," is a form of bribe, a tradition of burning Joss money to supply deceased with goods and funds to bribe underworld officials.  Using a clairvoyant as a sidekick, Jack Yu's delve into the mystery of the death unidentified Asian man and reveals a world both compelling and mysterious.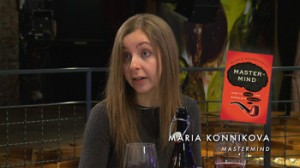 Though originally from Russia, Maria Konnikova has lived and traveled in many foreign places.  Her book "Mastermind," explores the many fertile fields of Sherlock Holmes's mind, using the Sir Arthur Doyle's famous reasoner method.  Exerting neuroscience and psychology, Maria offers a guideline on how to transform yourself into the next king investigator of Baker Street.  Maria promises that you will remember better, think clearer, and improve your mental powers if you keep your mind opened.
Episode was shot at City Winery
---
EPISODE #109    "Of Dust and Guts"  04-28-14
This week's episode of "Books du Jour," continues our mission to share different kinds of literature and books. The guests who have accepted to share our table are perfect examples of our mission.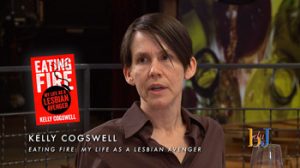 Kelly Cosgwell has written a memoir of blood, sweat and spit. "Eating Fire," is a heart-pumping account of old fashioned activism. In this instance, her memory of the Lesbian Avengers, a group formed in the early 90's, who called for direct action campaigns, battling cops, and mobilizing 20,000 dykes in DC while literally eating fire outside the white house. "Eating Fire" is a witty and urgent coming of age memoir spanning two decades, from the Culture War to the War on Terror.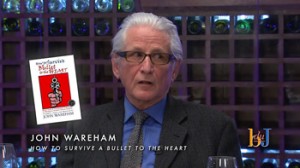 John Wareham's "How to Survive a Bullet in the Heart" is the work of a humanist who is not afraid to roll his sleeve and get the dirty job done. John's job is to visit prisons, and teach poetry to convicts to help them get in touch with their inner life. "How to Survive," is a heart-wrenching collection of short poems written by men in captivity, men who feel regrets, guilt, and whatever else they feel, they lay bare their soul. Check out the closing chapter on self-acceptance. Really moving.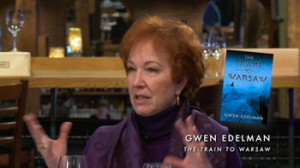 Gwen Edelman's "The Train to Warsaw," takes you on a ride down the tricky memory lane of the Warsaw Ghetto during WWII. Through a pair of sympathetic characters, who survived the war, and now decides to revisit Poland for the first time, they must now confront the brutal forces of time and history, which usher them into the darkest corners of their psyche. Edelman brings about great questions. Indeed what does it mean to recapture one's past when this past is pregnant with horrific nightmares?
Episode was shot at City Winery
---
EPISODE #110 "And the Roots Shall Prevail"
This week's episode of "Books du Jour," continues our mission to share literature from around the world.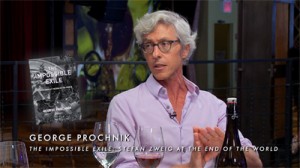 George Prochnik, "The Impossible Exile, Stefan Zweig at the End of the World," portraits the last years of Stefan Zweig's, once one of the most celebrated authors in the 30's, exile from Austria, after Hitler took power. George Prochnik looks into the Zweig's disintegration and growing disillusion with humanity as he struggles in NY and Brazil.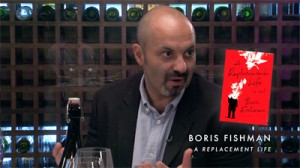 Boris Fishman, "The Replacement Life" looks back at WWII and how it continues to shape the life of people, in this case, ex-URSS immigrants, in our present. A young writer agrees to write letters on behalf of older holocaust survivors to apply for financial retribution from the German government. Of course the stories are not always true, and our hero is forced to face his own moral integrity.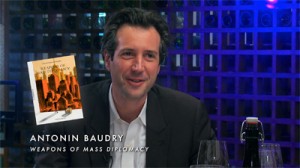 Antonin Baudry, "Weapons of Mass Diplomacy" takes a close look at the world of French diplomacy, viewed through the eyes of an assistant speechwriter. Although filled with wise quotes from the Greek philosopher Heraticlus, this engaging graphic novel depicts in fact a world of insanity, where big egos clash with the constant maelstrom of last minute world crisis. Even the speeches suffer from an endless state of anxiety.
Thank you to City Winery
---
EPISODE #111, "A Sight For Sore Eyes"

Host Frederic Colier invites a new selection of inspiring author to share his table at City Winery, in NY.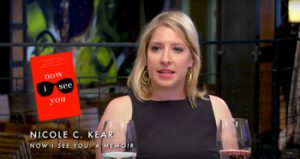 Nicole C. Kear, "Now I see You". Shortly after arriving in college, Nicole is afflicted by a macular degenerative condition. In other words, she will go blind in a few years. This heartfelt memoir traces her journey from learning about her illness through the years of turmoil while attempting to hide her condition, to self-acceptance that only the arrival of children could facilitate.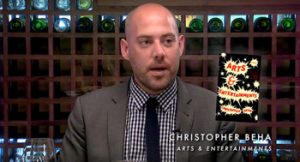 Christopher Beha, "Arts and Entertainments," follows the meandering of a failed screenwriter, for whom the prospect of an easy gain, and so in order to pay for his wife's pregnancy treatment, makes him cross moral lines too easily. The consequences of course are devastating for all parties. But moral decay, soullessness, and the pernicious glib values of Reality TV are really at the heart of this engaging novel.
Kerry Zukus, "Inside the Hotel Rwanda" was co-authored with Edouard Kayihura, on the eve of the 20th anniversary of the genocide against the Tutsi, takes a controversial look at what really happened at the Hotel des Milles Collines, known in the Hollywood portrayal as "Hotel Rwanda." This memoir investigates the role played by the hero of the film, Paul Rusesabagina and demonstrates that the movie could not be further from reality. Paul was nothing more than a ruthless, profiteering, and threatening opportunist willing to send anyone into the hands of the Hutu murderers.
Thank you to City Winery
---
EPISODE #112, "No Thrills no Frills"

Our final episode of the season happened to take place on the same week as the annual Thriller Fest in New York.  So we went to discover the best new voices in the thriller genre.
 F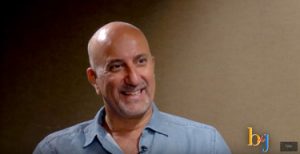 irst, Raymond Khoury presents two books "Face Off, and "Rasputin's Shadow." The first one is a compilation put together by the writer members of ITW. Authors were paired and co-wrote stories together. The book became the first ITW best-sellers. All proceeds from the book goes to help with ITW's mission.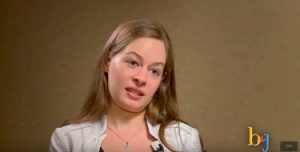 Elizabeth Heiter with "Hunted," tells the tale about a serial killer. Jenny Milchman introduces her second novel, "Ruin Falls" and child abduction.
Carla Norton talks about a story of sex slave in "The Edge of Normal". Kira Peikoff's sophomore book deals with longevity "No Time To Die".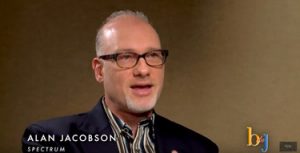 Whereas Frank Debonair makes a brief appearance to boast about his snooker skills, Alan Jacobson arrives with a new Karen Vail's story, "Spectrum."