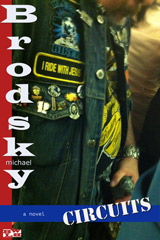 "Circuits," by Michael Brodsky (BWLB, $ 5.99)
This startling novel is the concentrated peak of Brodsky's dynamic and unique vision. With a shifting group of characters—Mazel Tov Jones, Neddie and Eddie, Vladimir and Mr. and Mrs. Stein, Brodsky explores the thought process of a protagonist who is accused of a murder but is never sure of his crime or his accusers. Brodsky's character becomes a model for all humans trying to find a self-identity, reduced to the simple yet tragic dilemma of trying to communicate with fellow men. Stripped of excess plot and locale, this novel expands on the visions of Beckett and Kafka, but with a uniquely American voice.
Circuits will surprise and engage the serious reader at a level that few contemporary writers attempt to reach. Brodsky lives up to Ezra Pound's famous challenge—Make it new—and pushes fiction and the novel to new limits with spirit and vigor.