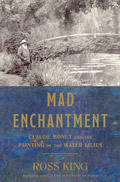 "Mad Enchantment: Claude Monet and the Painting of the Water Lilies," by Ross King
Bloomsbury
($30.00, 404 pages)
You may ask yourself why, as the title reveals, do we need another book, or rather a biography about Claude Monet, the painter, when there have been countless renditions. But to Ross King's credit, his differs from the others. For a start, King's research focuses mainly on the last 15 years of the painter's life, just before WWI, when the artist, already in his 70s, saw no reason to keep on painting. He had lost his wife and eldest son. Crippling cataracts severely impaired his craft, and he suffered from nagging anxiety and depression, further aggravated by the arrival of new artistic painting sensibilities, cubist and Dadaist.
When most of us would have tossed the brushes aside, Monet decided to start painting again but on a giant scale, producing the colossal legendary paintings from his garden of Giverny. An incredible story strewn with friendships, notably Clémenceau's, gives this book, which reads like a detective novel, full of intrigues, a welcome denouement.