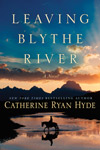 "Leaving Blyhe River" by Catherine Ryan Hyde
Lake Union
($14.95, 314 pages)
You may not remember who C. R. Hyde is, but suffices to tell you that she is the author of "Pay it Forward," which was adapted later into a film with Kevin Spacey, for you to say "of course." This new story takes place in the Blythe River National Wilderness, which I discovered is located in California.
There, a young teenager, Ethan, goes looking for his missing father, after he disappeared from his cabin, and rangers decided to abandon their rescue mission to find him.  Totally unprepared, Ethan ventures nonetheless into the wilderness and quickly learn the roughness of nature: the punishing sun, the swirling rapids, and the strength and resilience derived from pushing oneself past one's limits . . . but the story is not an exploration of one's courage in the face of adversity, but rather a true confrontation regarding forgiveness, as Ethan must decide whether or not his father is worth to be saved at all. From from being a walk in the park, "Leaving Blythe River" meanders with splendor through nature's brutality.