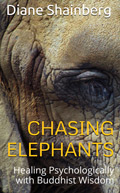 "Chasing Elephants, " by Diane Shainberg
(Book Case Engine, P 190, $4.99)
Fifteen years have elapsed since the first publication of "Chasing Elephants." With insight, it is always easy to see the remarkable achievement of overlooked if not often the consistent neglect and plight of before-their-time books. It is a delight to see this book reprinted today, not so much to bring justice to a groundbreaking work but also to disseminate the importance of Diane Shainberg's ideas.
What are those precursory ideas? Fifteen years is not a long time and, yet it is a good benchmark to be able to accept, dismiss, or follow the evolution and impact of one lifework. Given the demonstrated climate, economic, and humanitarian crisis already unraveling at our doorsteps, the work appears properly time to exercise its wisdom. More than ever a new global consciousness is needed if we want to avoid, once again, catastrophic decisions and outcome, based on outdated models. We must think in terms of totality, implying that it is paramount that we create a new global awareness and consciousness. We must write the integral trends for the future, the complex nexus of interrelatedness, cross-fields and pluri or multi-disciplines. The elaboration of this new consciousness however starts with each of us. Before going global, we must not only think local but learn to develop this awareness ourselves, on our own. No one but our self is responsible, and no one can bypass this work. No shortcut exists. After the work is done, the multiplicity of our new single consciousness will create the totality the world needs. An ambitious program from which we cannot turn a blind eye.
While "Chasing Elephants" does not aspire to such a broad scope, Shainberg's writing clearly points into this direction. It advocates for the first step necessary for personal healing, a crucial step if we want to contribute to the new consciousness without reliving or reenacting the wounds of the past in complete blindness, falling back into our personal trenches. The Elephants only stay in the room as long as we need them. Once we see them, they are no longer needed and take a leave of absence.  This is the inspiring journey Diane Shainberg takes us on.  With heart-wrenching anecdotes, case-studies, first-row testimonies, without shying away from her own struggles and suffering, she ushers us on the road to freedom and peace. Without forgetting that along the way, during her long journey into the world of Buddhist, she reminds us that compassion stands as our best companion.