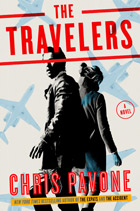 "The Travelers," by Chris Pavone (Crown Publishers pp 437, $ 27.00)
If you have read Chris Pavone's previous novels "The Expats" and "The Accident," you know that you will travel abroad, extensively. "The Travelers" will not disappoint you. I suspect one day, Pavone will write high-end espionage novels, à la James Bond, since he seems so comfortable in the genre, and his writing only gains in intensity.
"The Travelers" is a fast-paced thriller transporting you in all the most unlikely locations in the world. Its main protagonist, Will Rhodes, is a "travel" writer for a magazine and lives out of a suitcase. It may sound like a dream, but if you are stuck in a rut in your own life make no mistake that this sort of conditions are often the result of internal "traveling" affairs. In Will's case, crumbling marriage, crumbling house, and crumbling dreams. One day, during an assignment in Argentina, he cannot resist the temptation of a mysterious Australian woman . . . and thus starts an exhilarating domino effect of suspicions and disappearances that will put Will and his circle within immediate danger.