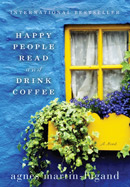 "Happy People Read and Drink Coffee" by Agnès Martin-Lugand.
(Trans. Sandra Smith, Weinstein Books, p 242, $22.90)
Originally self-published in French, "Happy People Read and Drink Coffee" became a sensation in France before an international bestsellers, and deservedly. Though written in the current fashionable trend of story of awakening or recovery in the face of brutal personal drama, think Under the Tuscan Sun, Wild, and Eat Prey Love, tragedy, this book reads like a charm, in a clear and fast-pace prose.
Diane is a young woman, who has lost both her husband and daughter (I'll spare you how). Despairing, she moves to Ireland to escape the crushing memories surrounding her. There, of course, life slowly creeps back in, and she develops a friendship with Edward, a local photographer. Ghosts however are powerful, especially when Diane and Edward's relationship evolves. They stand in her way. I love how the book looks at compromises, not between the alive and the dead but in the narrow scope of the grey, which is the daily dance of compromise we face to deal with pain, sorrow and laughter.