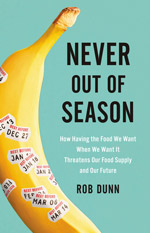 "Never Out of Season: How Having the Food We Want When We Want it Threatens Our Food Supply and Our Future,"
by Rob Dunn
(Little, Brown and Company, pp 348, $27.00)
The opening chapter of "Never Out of Season," exposes the book premise flat out. It deals with the short history of the banana. This rather prosaic fruit, available in abundance, at least in New York, from every street vendors on most street corners, is not the result of simple happenstance or sustained popular delight. Its ubiquitous presence is both the product of refined methods of distribution and the result of a long selective agricultural process, an outcome we have grown to rely and take for granted. This hegemony of productivity is what Dunn, through this masterfully well-documented book replete with singular stories reading like detective stories, underlines with conviction to sound the alarm. Indeed, even if you do not buy his banana argument, his historical cases will not leave you indifferent to the danger of monoculture, and all the risks associated with it. While history has proven over and over the futility of such approach, we persist in the same direction.
When a pest or a blight breaks down the natural defense of an organism, it kills it.  This is what happened to the banana. Since only one type of it was grown, once the Panama disease contaminated the fruit, it did not simply destroy a field, it wiped out an industry, with all the societal fallout this entails.  Following the banana trail, Dunn merges into the potato territories and the Great Irish Famine of 1845-48, by going to the roots of the problem, chronicling the pest arrival, its development, and the reason devastation on such scope happened at all. An uncanny situation since Ireland was still exporting food towards England. Was the famine exacerbated because of a lack of communications? Did the protectionism that always accompanies the defense of special interests help its spread? Or was it the failure of scientists to gain credibility while they held solutions within reach? Or was it simply the compounding of several interlinked factors?
"Never Out of Season," goes on to analyze other scourges impacting cassava, wheat and more . . . What becomes transparent in the search of solutions against blight and pests, wracking havoc on continents and political stability, is that successes have been often reliant on a set of isolated individuals, who followed their own instincts. You will learn much through their stubborn efforts: their frustrations and years of failure, before discovering a cure.  In the meantime, danger still lurks. While quick-fixed politics to produce vast quantity of food works, the pressure goes counter to variety. Dunn warned us, with the growing global population, we are walking a thin line, in the proximity of pending disaster. It is precisely past mistakes that bring the promise of hope not to repeat them.