January 2017. First of all in the behalf of the Books du Jour team, Happy New Year to you. May your eyes get not too exhausted from reading too many books.  Always a risk.  We are kicking off this new year with an amazing selection of new books.
As new know, even though truckloads of books see the light year after year, with each new year the same question remains. On which note to start the year, especially when it begins with the most controversial presidential inauguration ever? On a spirit of celebration? On a serious or mournful note? Is it possible to be chirpy when the anxious making uncertainty of the months ahead already corrupt our present? Some claims that knowing nothing is better. But as a critic, I only find solace in the better understanding of circumstances. Below you will find a selection of books that reflects the concerns of the day.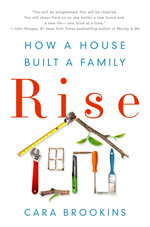 "Rise: How a Family Built a House" by Cara Brookins
(Saint Martin Press, pp 320, $25.99)
Here is a book that I expect will make a lot of buzz when it launches in mid January. "Rise" is a memoir of a long and incredible journey of its author, Cara Brookins, a single mother of four, who . . . Before I proceed and tell you what the book is about, I would like to explain why this memoir touches the nerve of a nation more than others of late, such as "Eat, Pray, Love" or "Wild." These bestsellers have a similar thematic: a lost or troubled soul goes into the world in search of meaning and restoration of a sense of personal fulfillment. "Rise" comes free from the geographical journey. In fact, the story pretty much circles very close to where the author's life crumbled, Little Rock, AK.
There is a reason for this absence of pilgrimage. "Rise" is about a house. The incredible endeavor of its author to build her own house with her four children. Knowing the symbolic importance of the role of owning a house in the American psyche, Brookins offers a tremendous journey of resilience and recovery in the face of adversity. In this occurrence, three failed marriages with nefarious partners. It will be hard for the readers not sympathize with Brookins's predicament. Her kids are solid, insightful, naturally tuned in to their dire circumstances and their mother's dilemma. Though, Brookins's writing flies off the page with exalting verve, which at times did not give me time to absorb the magnitude of what was happening, her story is deeply compelling.
For those who believe that only a trip to India or a marathon jaunt along the Compostela trail can unlock their life issues, they should be reminded that a home is also where one builds or rebuilds it. Expect Brookins's "Rise" to teach you that.