Episode #2                         "Still Young at Heart"
Broadcast July 22, 2013, at 9:30 pm on NYC Life, Channel 25
Book private investigator Frank Debonair realizes that to become a young adult author all you need is to be young at heart. He talks about his discoveries unveiled at Book Expo America.
Host Frederic Colier interviews NERDS series writer Michael Buckley (The Villain Virus), Michelle Tea (Mermaid in Chelsea Creek), and special effects designer Mark Woods and his charming monster, Gugor, from The Creatures Department, book written by Robert Paul Weston. He also learns everything about the Ice Age with Relic author Heather Terrell.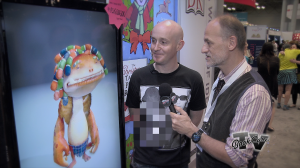 In Book World, Acacia O'Connor from the National Coalition Against Censorship talks about banned children books in schools and libraries.
The Pick of the Week segment includes several young adult authors, including: Jessica Verdi (My Life After Now), Tyler Whitesides (Janitors), Holly Goldberg Sloan (Counting by 7s), and Laurie Boyle Crompton, the author of Blaze (or Love in the Time of Supervillains).