Oct 24th, 2013. Book Case announces the release of its first Young Adult, New Adult fiction novel.
Tanker 10, written by Jonathan Curelop is a compelling and timely story about the love of baseball, and being bullied and overweight. Tanker 10 opens in Brockton, MA, in 1976, where bashful and overweight 10-year-old Jimmy just wants to read his books and toss the ball with his best friend Ben. Unfortunately, Jimmy is an entertaining victim for his older brother Cliff and his buddies,. When Jimmy tries to stand up to Cliff, the verbal abuse turns physical and an accident sends Jimmy to the hospital with an injury that changes the trajectory of his life.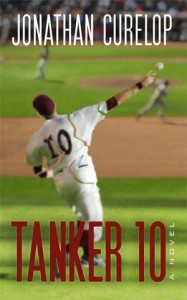 Tanker 10 depicts the story of Jimmy during his pre-teen and teenage years as he struggles to mend his physical and psychological injuries. Finding salvation through baseball, he dedicates himself to a strict regimen, taking him from intramurals baseball to Little League. By the time he reaches high school, Jimmy is no longer the fat kid throwing a ball against a wall but an up-and-coming right fielder on the freshman baseball team. Yet despite his successful recovery, Jimmy remains ill at ease with himself. He longs for emotional and physical intimacy and grapples with finding his place in his family, among his friends, and with his brother Cliff.
Jonathan Curelop, a lifelong baseball fan who was bullied as a child for being overweight, has written a poignant fictional account of a character in search of himself. His debut novel, Tanker 10, is a funny and heart-wrenching coming-of-age journey toward self-acceptance in the wake of trauma. Centered around baseball, the story deals with the serious ramifications of identity and acceptance.
Visit Jonathan's page for more info.